The 2023 Nissan® Z
A new expression of the power of Z
Twin-Turbo V6 Engine. Available 6-speed Manual Transmission. Iconnic Design. Everything we know, everything we love and everything we live for, all in one letter.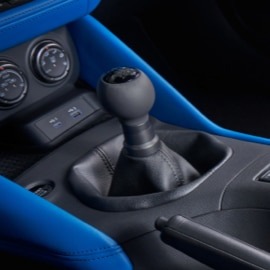 Synchro-rev matching
Invented by Nissan, Synchro-Rev Matching technology automatically adjusts the throttle during downshifts and upshifts to deliver smoother gear changes, improved handling and tighter control.
Launch control
Brand new to the Z, available launch control helps eliminate wheel spin and hop by holding the engine at a pre-set RPM. It also modulates power as you take off to ensure you get the fastest, most consistent acceleration every time. [*] 2023 Z not yet available for purchase. Expected availability Spring 2022. Pre-production model shown. See actual production vehicle when available for final details on features.
Mechanical limited-slip differential
The new available mechanical limited-slip differential helps distribute power to whichever wheel has the best grip on the road, helping you power your way out of corners. [*] Obey all traffic laws, always drive safely and wear your seat belt. Damage resulting from racing, competitive driving, track and/or airstrip use not covered by warranty. See your New Vehicle Limited Warranty and Owner's Manual for proper vehicle operation and complete warranty details.
Performance brakes
Available Sport Brakes feature 14" front rotors with 4-piston calipers, which are calibrated to provide a braking experience that not only feels great, but has impressive stopping power. [*] High friction brake pads are designed for high-performance driving with a higher coefficient of friction on the rotors that provides superior pedal feel and improved fade resistance in severe braking conditions. Depending on your driving habits, you may experience increased brake dust and noise as well as faster wear and tear of the brake pads and rotors, resulting in more frequent replacement of these components.
2023 Nissan Z® Proto Spec [*]

Limited availability.
Because first impressions are everything
The pulse-raising Z Proto Spec offers exclusivity, excitement and exhilarating performance. Seeing one will be rare. And seeing one stopped? Probably even more so.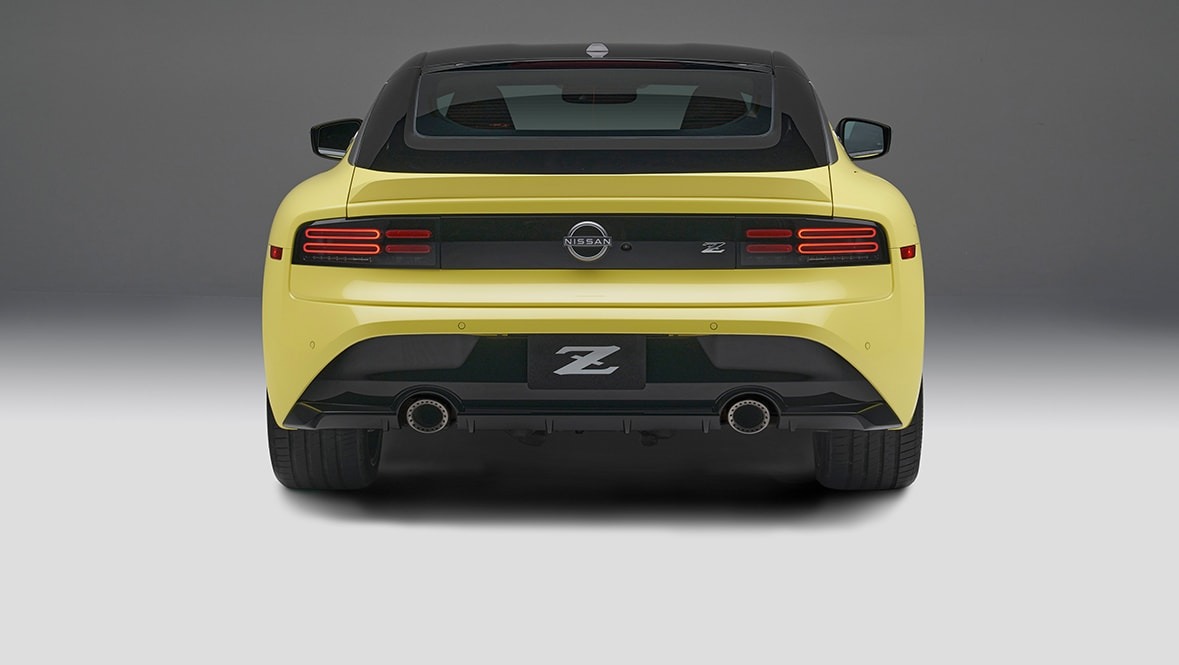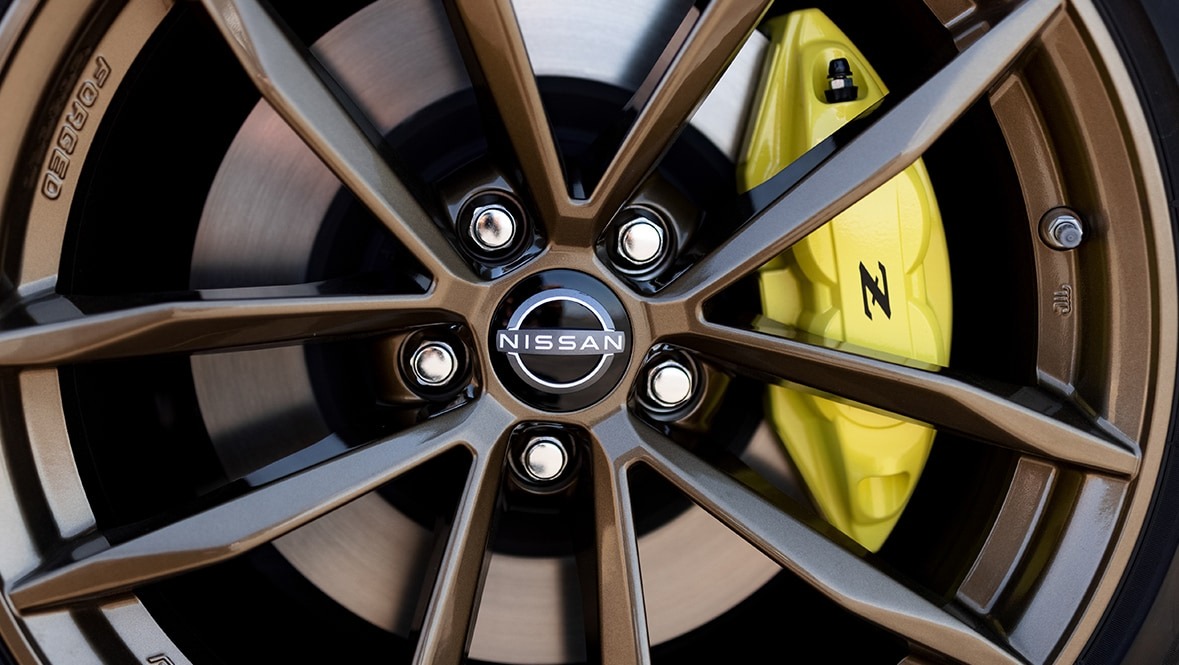 Interior Design
Always in your element
Crafted to bring out your best performance, the Z's interior holds you firmly in place through every curve, with room to move. Advanced technology serves up everything you need to know and nothing you don't, with classic design that never forgets what a true sports car must be.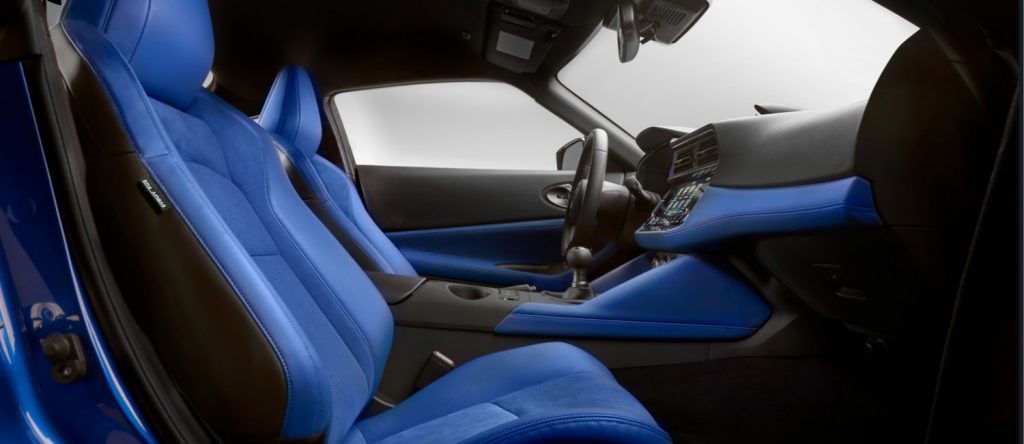 Redesigned cockpit
Focused on the driver, the all-new Z keeps you in the loop with a new digital gauge cluster and an available 8-inch centre touchscreen display. It also offers an optional Wi-Fi hotspot and remote access. [*] Never program while driving. GPS mapping may not be detailed in all areas or reflect current road status. [*] Provincial laws may apply; review local laws before using.
New performance seats
The Z features a new seat design that offers impressive lateral support, along with anti-slip material and a slide-reducing centre pad in the lower seat cushion. Knee bolsters work with the performance seats to help keep the driver in place.
GT-R®-inspired steering wheel
Point to the future with a nod to our history. The leather-wrapped rim is thicker than the current GT-R, while the unique groove at the top of the wheel was inspired by the legendary GT-R R32.
Race car driver-designed gauges
Tap into the Z's Sport Mode screen, one of three selectable screens on the digital dashboard. It was designed with input from Tsugio Matsuda, a racer for NISMO® who competes in Japan's Super GT racing series.
Legendary triple-pod cluster
Legacy meets next-wave design. In the all-new 2023 Z, you get key information at a glance, including turbo boost, turbine speed and voltage via the enhanced triple pod cluster.
Intelligent Emergency Braking with Pedestrian Detection
Intelligent Emergency Braking with Pedestrian Detection monitors your speed and distance from the car ahead, alerting you if you need to slow down. It can also automatically engage the brakes to help avoid a frontal collision or lessen the severity of an impact. And when it detects a pedestrian in the crosswalk, it can stop you in your tracks. [*] Intelligent Emergency Braking with Pedestrian Detection cannot prevent accidents due to carelessness or dangerous driving techniques. It may not provide warning or braking in certain conditions. Speed limitations apply.
Intelligent Forward Collision Warning
What's up ahead? Intelligent Forward Collision Warning keeps an eye on the two cars in front of you. It detects when one suddenly decelerates, warning you to slow down, so you can avoid a collision. [*] Intelligent Forward Collision Warning is intended to warn you before a collision occurs; it cannot prevent a collision. Speed and other limitations apply. See owner's manual for details.
Blind Spot Warning
Avoid hazards on the highway. Blind Spot Warning gives you a heads up when it detects a vehicle hiding in your blind spot, so you can steer clear of danger. [*] Blind Spot Warning and Intelligent Blind Spot Intervention are not substitutes for proper lane change procedures. The system will not prevent contact with other vehicles or accidents. It may not detect every vehicle or object around you.
Rear Cross Traffic Alert
Manoeuvre confidently in any parking lot or driveway. When you're backing out of a space, Rear Cross Traffic Alert watches around the rear of your Z, warning you about cars it detects creeping up from either side. [*] Rear Cross Traffic Alert may not detect all vehicles. See owner's manual for safety information.
Lane Departure Warning
Drive between the lines. Lane Departure Warning helps make sure you change lanes only when you mean to. If the system detects that you're drifting over without signalling, a gentle buzz on the steering wheel can let you know. [*] Lane Departure Warning and Intelligent Lane Intervention operate only when the lane markings are clearly visible. Speed and other limitations apply. See owner's manual for details.
High Beam Assist
High Beam Assist can automatically deactivate your high beams if it detects an oncoming vehicle. After the other driver has passed, the system can reactivate the high beams, so you don't have to feel around for the switch.
Safety & Driver Assist
Confidence to match the capability
Advanced driver assist and safety technology help take the daily workload off the driver, so you can concentrate on what matters most – the pure enjoyment of every drive.
Exclusive Z Models
Discover the Z lineup
Manual or automatic? Sport or performance? The choice is yours.